NEW TO KOBO How to buy Guidelines
on a tablet guidelines best viewed in portrait mode
EXISTING KOBO CUSTOMER Buy Now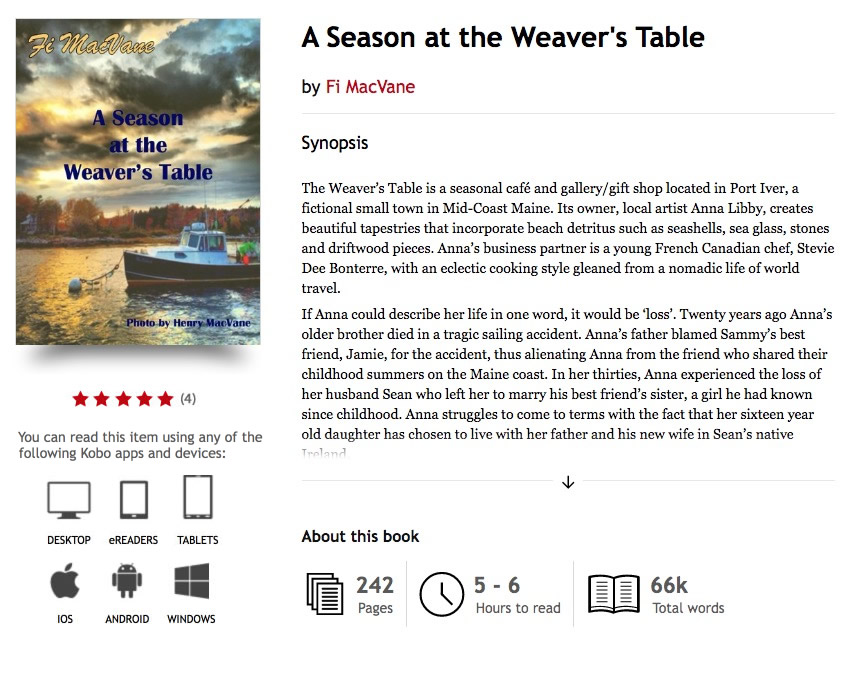 Halò agus ceud mìle fàilte!
Fàilte! Welcome! (hello and a hundred thousand welcomes) This is the place to learn more about me in my new guise as 'author'. Find out about my journey to publishing 'A Season at the Weaver's Table' and my plans for future books that will complete the 'Weaver's Trilogy' as well as others including my children's series, 'The Buster Books'. This is where I'll share with my readers (current and future) what I've been up to lately…. learning Scottish Gaelic, starting a new walking regime in preparation for doing the Portuguese Camino when the threat of Covid-19 is reduced, searching for that perfect Scottish property and loving the little time (and FaceTime) I have with the grandchildren.
About Fiona
I have always been a dreamer, someone who lives as much in my imagination as in the real world. I see the possibilities of life, however constricting reality may appear to be. I wrote stories throughout my childhood, poetry throughout my teens and kept journals in my twenties. Later a MSc dissertation and a PhD thesis took precedence, followed by academic papers and professional editing. In the years leading up to my second retirement I wrote 'A Season at the Weaver's Table' and a series of children's stories about an unwanted junkyard dog called 'The Buster Books'. Now that my time is my own as they say, I explored publishing possibilities and chose Kobo for publication of my novel as an e-book. I am currently working to combine the artwork of my talented younger son, Noah, with the Buster stories to create an e-book version of 'The Buster Books' which will also be published on Kobo. At the same time I am taking the advice of my critical readers, those friends who reviewed the initial draft of my novel, and working on two further books to complete a trilogy. As a teaser, I can tell you that the next book, has a Scottish setting.
There's more! The very first novel I started some years ago, and never finished was a 'Who Dunnit' about a woman who lost her memory in a serious car accident. I will be picking up that book, set in West Yorkshire, and developing it when the Weaver's Trilogy is completed. I think the most important characteristic of a good writer is to be a voracious reader. Because I am never without a book or two on the go, I believe I am a good judge of literary worth. Therefore, I challenge you to read 'A Season at the Weaver's Table', compare it to a novel by your current favourite popular author and leave me a review on the Kobo site. Thank you.